Argh I feel like a pirate! Will all of the great stuff I got at the PMC Conference! I was able to sneak out between sessions to peruse the vendor hall. Although their were not as many vendors as in years past, the pickings were still great. The show and sell was a feed frenzy as well! Let me also apologize now for the poor quality photos. I'll recap Show and Sell tonight and the vendor room tomorrow.
Here is what I caught my somewhat jaded eye!


Show and Sell!
The first night of Show and Sell I heard was mobbed. I didn't attend because I was mentoring some attendees in the One-2-One Mentoring Sessions. A quick 15 minute session almost like speed dating except with jewelry design critiques in mind. Needless to say I made up for it!
For years I've been wanting buy something from Celie and this year was the year! I bought this fab ring with ancient text and 3 spheres attached to it. Made with the new PMC Sterling. I love it! Celie can be found at www.celiefago.com
Then I just HAD to buy a necklace from Celie. It's an ancient Roman owl coin set in a copper disk. I love this one too!
If you want to buy something from Celie check out her Etsy Shop here
Next stop Noortje Meijerink's table. I bought a pendant from her at the last Show and Sell in 2010 and then quickly lost it somewhere on a teaching gig. I bought a another pendant to replace the one I lost. Ironically, she had one of the pendants that I wanted to buy last time, but didn't. So I got it this time! Noortje is from the Netherlands and is know for her work with ceramic/porcelain and metal clay. Here is the pendant.
And last but not least! My new necklace by the beautiful and talented Wanaree Tanner.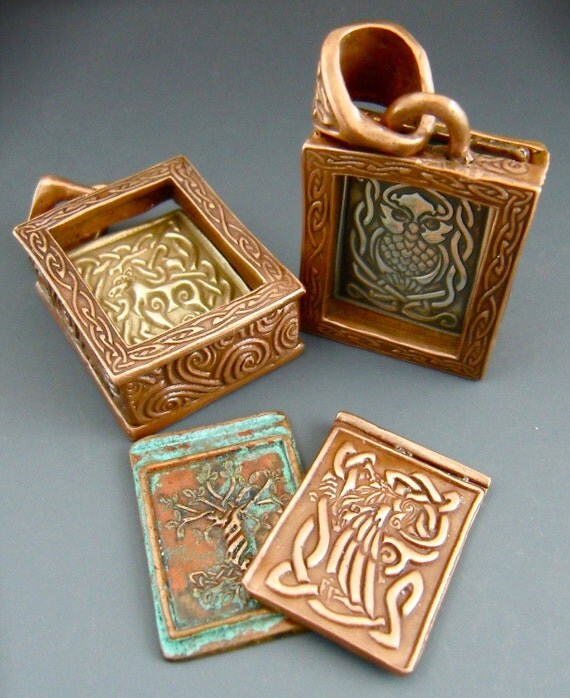 Wanaree Tanner, what can I say about Wanree? She is talented, creative, inventive and a stellar soul. A welcome addition to our metal clay community. I had to buy something special that showed her creativity. Here is what I bought and her description from her Etsy Store. I love this piece! It's like getting 5 necklaces in one!
Just for fun check out what I really wanted to buy at the bottom of this post.
Mythos Gallery Box
Hand sculpted copper clay, bronze clay, and silver clay, fired into solid metal. This shadow box features four of my original, hand drafted, Celtic designs and up to two tiles can be stacked into the box at a time. Choose from the Dragon Box, or the Tree Box.
Tree of Life- Copper tile with antiqued green patina, sealed to preserve color
This is my interpretation of the tree of life: The universe depicted as an extention of one codependent form. The root sustains through it's connection to the ground while the branches bring heavenly sustainence. Worked with trinity knots at the end of the branches, this knot represents the trinity archetype. From the body, mind, and spirit, to the Father, Son, and Holy Ghost.
Owl- 99.9% fine silver. Their large eyes are often seen as symbols of the Great Mother, seeing all. They are also attributed great wisdom and knowledge.
Hart (Stag): Bronze tile. Harts often represent the cyclical nature of life. Each year they shed and grow new antlers, following the flow of the seasons, the dance between life and death.
Griffon: Copper tile. Seen frequently on family crest, this half eagle half lion creature of mythology is viewed as great protectors and guardians.
Tomorrow my booty acquired at the vendor hall!
OK here is what I really wanted to buy. But common sense and lack of funds won out! BUT it can be yours for $3500. And well worth every penny as it won the Presidential Grand Prize in the Art Clay World North American Design Competition. So happy for Wanree!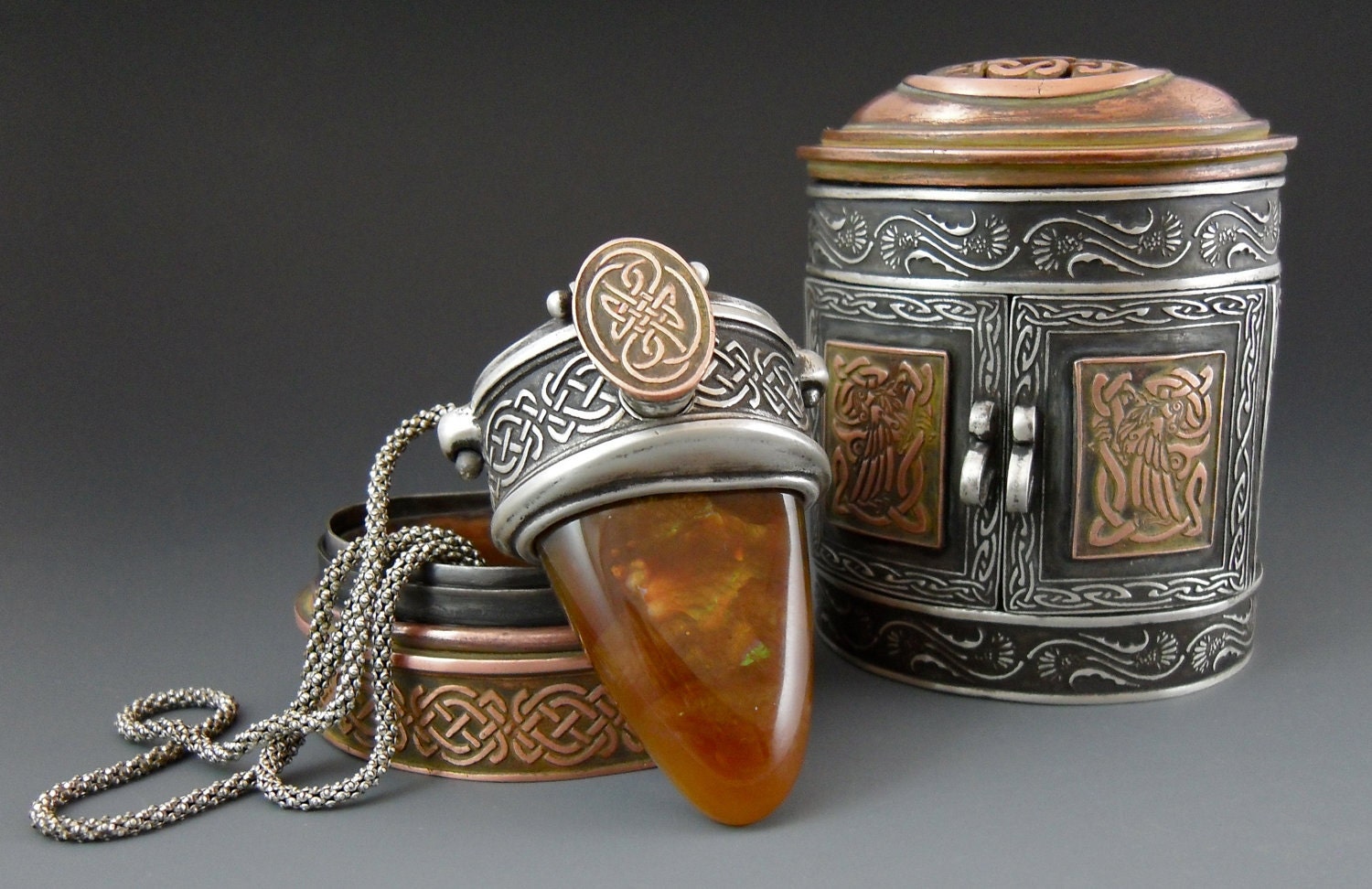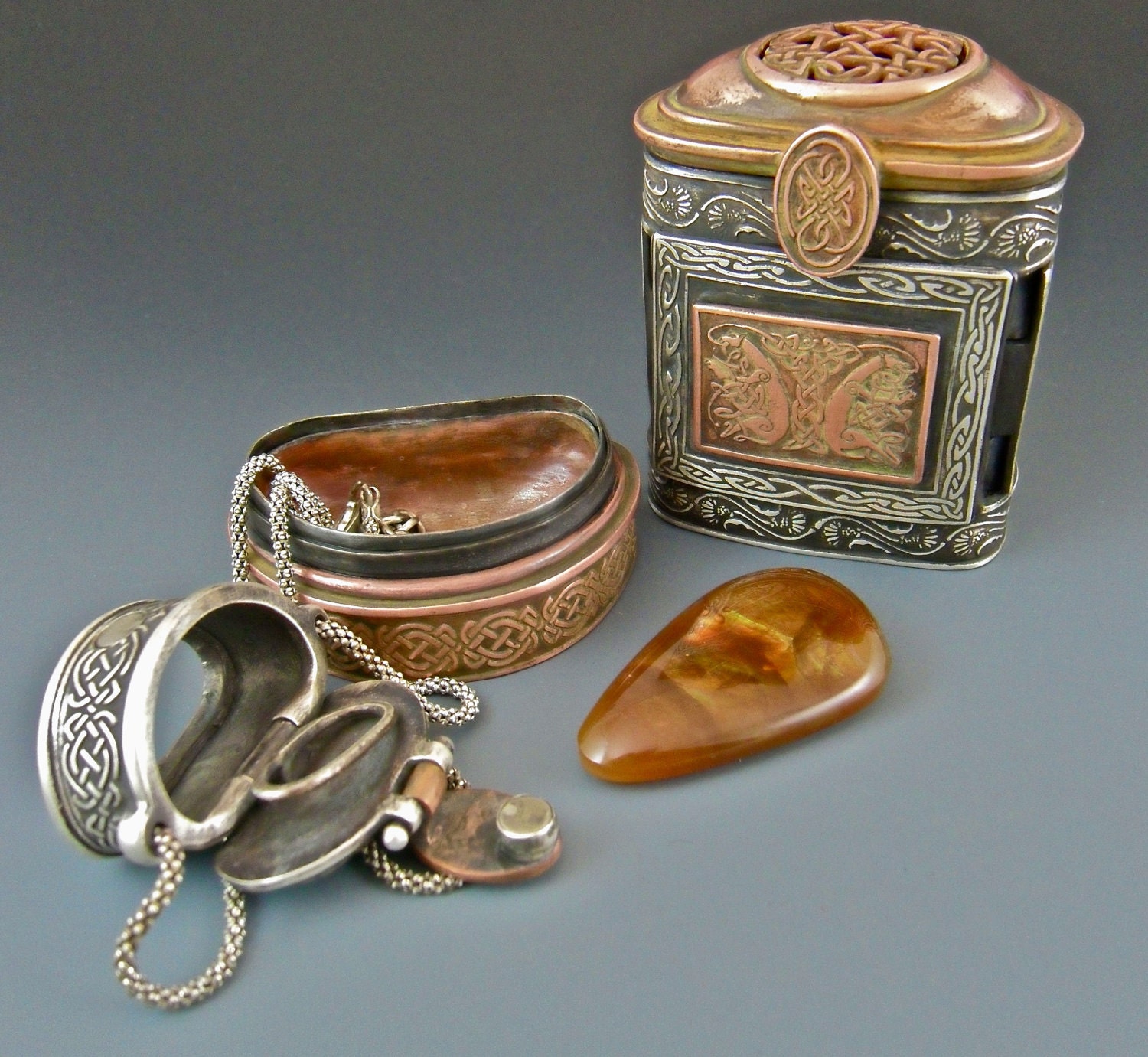 Popular Posts